A Mind-boggling Statement
By Songtsen
Tuesday, Sep 1, 2015
No Comment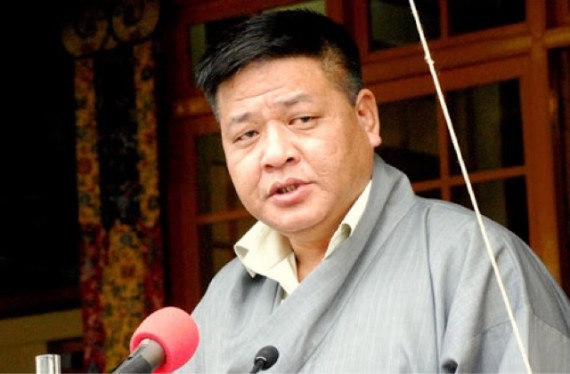 Yesterday, 26 August 2015, Penpa Tsering, honorable speaker of the Tibetan parliament, gave a speech to the monks of Sera monastery, Bylakuppe, South India. There was nothing new in his speech, as he reiterated the same old narratives. However he said something that struck great fear and anxiety in my heart. It shocked the audience, as the monks looked at the speaker in disbelief. The monks wondered if they heard the speaker correctly, when he said, "I am not debating someone who criticizes His Holiness the Dalai Lama. The Gyuto monastery has announced that it is not going to allow people, who criticize His Holiness, to address its monks. This is absolutely right. I applaud it. Indeed I cannot live with such people."
The speaker has some good qualities. He is an experienced politician, and a brilliant orator. But what really sickens me is that some one who can plead our enemy, the Chinese, to have a dialogue with us is now saying that he cannot debate with a fellow Tibetan, who cherishes a different political view. This has robbed my sleep and appetite. The speaker does not have to speak in a roundabout way. We know that he is targeting Lukar Jam. I do not understand why the speaker, who is willing to negotiate with the Chinese, is unable to debate Lukar Jam. Is it because Lukar is more evil than the Chinese? No matter how much I think I cannot digest the fact that the speaker is not able to share the same platform with Lukar, who suffered years of brutal Chinese torture and imprisonment for seeking Tibetan independence. I cannot really ignore such a statement.
The speaker of the Tibetan parliament took an oath that he would never keep any contact with the worshippers of Dolgyal spirit. Does his ex-communication of the Dolgyal worshippers now extend to Tibetans who call for independence, including Lukar Jam? I really don't understand the speaker's hatred for Lukar Jam. It really scared me. Why cannot we have different political views? People can follow the Middle-Way. They can have absolute faith in His Holiness. But I do not think Middle Way followers are so narrow-minded that they cannot tolerate co-existing with followers of Tibetan independence. There is definitely a space for followers of Tibetan independence in the hearts of people who worship the Dalai Lama. But how can I explain the mystery that the speaker of the parliament, who is willing to tolerate the Chinese communists, has no space in his heart for Lukar Jam?
One rumor that is flooding the ears of the people these days is that the speaker is responsible for breaking up the Tibetan Youth Congress. I used to think this was a baseless allegation. But what the speaker said yesterday made me feel that for him followers of Tibetan independence are like the proverbial 'thorn-in-the-eye.' I now wonder if the allegation that the speaker split up the TYC is really baseless.
Perhaps the speaker was attempting to show his absolute faith and love in His Holiness the Dalai Lama. He thought such a showcase of faith and love might win him the votes of the monks. However, the monks of Sera monastery are not that narrow-minded that we cannot tolerate Lukar Jam. Nor are we so pious that we consider Lukar Jam an enemy of the faith. It seems the speaker has failed to read our minds and hearts. He really under-estimated us!
The author, a monk, writes under the pen name Songtsen. Click here for the original article in Tibetan.