Maoist tragedy in the quake-hit Himalayas

By Maura Moynihan
Sunday, May 31, 2015
No Comment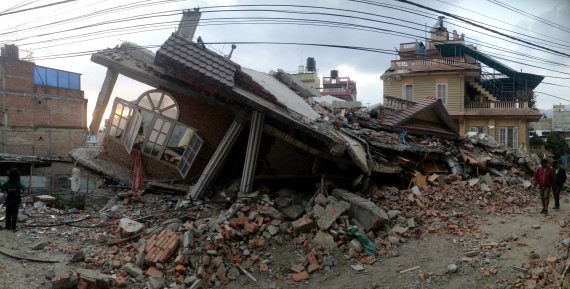 India's permanent representative to the United Nations Asoke Kumar Mukerji has led a UN effort to raise USD 423 million to assist Nepal as powerful earthquakes continue to strike the fragile Himalayan nation. India's Operation Maitri has led the world in rescue and relief missions to Nepal and has already donated over USD 13 million in aid.
This calamity unfolds upon a broken state, reeling from the aftershocks of a political earthquake that erupted in 1996, when Pushpa Kamal Dahal, who gave to himself the revolutionary honorific "Prachanda", or The Fierce One, declared a "people's war to establish a communist republic, to smash the moribund parasitic classes of the arch-reactionary Shah-Rana family". Within a decade Nepal was ravaged by psychotic violence, as Maoists gangs assaulted that beauteous land of graceful people. Prachanda's People's Liberation Army bombed villages, robbed banks, tortured and slaughtered a helpless rural populace, kidnapped men, women and in great number children, to hoist rifles for his people's war, whilst embassies and development agencies in Kathmandu stammered in febrile confusion.
Since the first earthquake struck on April 25, scores of Nepali citizens posted Internet videos castigating the Maoist's ruinous "People's War" which for two decades deliberately crippled Nepali society, leaving it painfully unprepared for natural disasters. The Maoists were crushed in a national election held in November 2013, but have spent months blocking all efforts to draft a Constitution, launching their usual tactics of strikes and extortion. One cartoon has gone viral, showing Maoist leaders absconding with public funds, with the headline: "Missing in the Earthquake".
In the 1990s, I worked for Radio Free Asia in Kathmandu, and observed that diplomats and analysts ignored the link between the rise of Maoist insurgencies in India and Nepal and the legacy of Chairman Mao in Tibet, China's most prized and restive possession. Nepal's Maoists were initially dismissed as an aberration, emerging after the end of the Cold War. This assumption ignored the ugly truth that Communist tactics were alive and well in China, the source of funding and training for Nepal's Maoists, who were perpetually flying to Shanghai and Lhasa on Chinese government junkets, and felicitating Chinese military advisers back in Kathmandu.
In the chaos that followed the regicide of June 1, 2001, when King Birendra and his family were massacred in Kathmandu's Naraya-nahiti Palace, it was the Maoists who rose to power. In 2008 the Nepali Maoists tried to revoke the Treaty of Peace and Friendship with India, enacted after the 1962 India-China war. Then external affairs minister Jaswant Singh stated: "With the China-Nepal nexus on the rise there is a chilling in India-Nepal relations."
China had powerful motives for penetrating the Kingdom of Nepal: protecting its iron grip on Tibet. King Mahendra and his son Birendra gave royal protection to Tibetan refugees; many became Nepali citizens brought prosperity to Nepal, employing millions of Nepalis in Tibetan carpet factories. In January 2000, the young Karmapa made a bold escape from Tibet, passing in secret through Nepal, on his way to India, China's biggest loss of face since the flight of the Dalai Lama in 1959.
When the Maoists came to power, the Tibetans were terrorised and driven out. China now claims suzerainty over all Tibetan ethnic and cultural zones of Nepal, Sikkim, Bhutan, Ladakh and Arunachal Pradesh. Chinese security forces are well-established all along the Tibet-Nepal border, to advance Beijing's ambitious plans to expand their rails, roads and armies across South and Central Asia, encircling India with their "String of Pearls" strategy.
India has always been Nepal's largest foreign aid donor, and sole source of petrol and other vital commodities, yet for years I heard Nepalis express anxiety about India's passive response to Maoists, and heard Indians complain about obstinate factions in South Block, which "took Nepal for granted". Prime Minister Narendra Modi is the first Indian head of government to take the one-hour flight from New Delhi to Kathmandu Nepal in 18 years, in September 2014, where he was greeted like a Bollywood star. Mr Modi's speeches expressing support for earthquake victims are in heavy rotation on Nepali TV.
Addressing a Chinese and Indian audience Tsinghua University in Beijing on May 15, Prime Minister Modi said, "Wherever possible and feasible, we should work together, as we did in responding to the earthquake in Nepal," and that if the last century was the age of alliances, "this is an era of inter-dependence". At this perilous hour for Nepal, one must hope that China will respond with genuine humanitarian purpose. In the months ahead, the Nepali people will suffer hunger, disease, trauma and fear. Nepal is the poorest nation in South Asia, despite receiving enormous annual sums of international aid. It survives on remittances, as millions of young Nepali men endure long years of servitude in the Gulf States and girls are trafficked to Indian brothels.
In 1948, the Nepali National Congress was created in Varanasi and the Nepali Democratic Congress was established in Calcutta in 1950, as Nepali intellectuals and authors journeyed to India to study the writings and stratagems of Mahatma Gandhi and Jawaharlal Nehru and sought to link Nepal's fortunes with the institution that had brought India freedom and democracy. One can only hope that as India helps Nepal recover and rebuild, India's democratic institutions will once more serve as model to rebuild Nepal's governance and bring peace to a shattered land.