The day I met Rinpoche

By Dhondup Tashi Rekjong
Tuesday, Apr 15, 2014
No Comment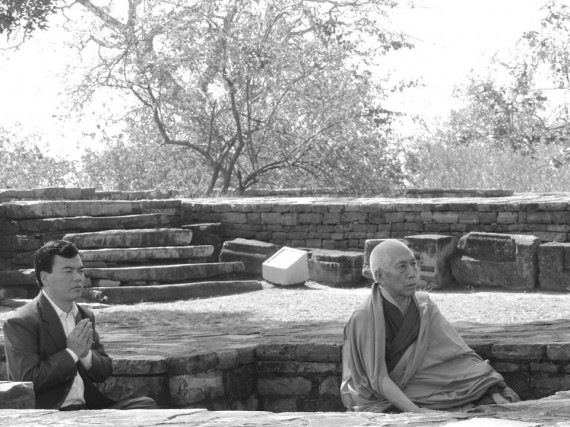 I was at Aku Dawa's place that morning. Aku Dawa and I were from the same village in Tibet. His small apartment in Dharamsala had two metal beds, a table where he kept all his books and an unpolished stove near the window. He said the rent was low. He was renting from an Indian landlord. As I sat there in his room, I was both excited and nervous because that day, I was going to meet Samdong Rinpoche, who was then the Kalon Tripa, prime minister of the Tibetan government in exile. For a simple student like myself, it was a special opportunity to meet a dignitary like him, who's also a known scholar and a Rinpoche, a reincarnate lama.
My teacher's nephew who was Rinpoche's personal secretary had arranged this meeting at his uncle's request. That morning I eagerly went to the prime minster's residence with a Khata – white ceremonial scarf, a bag of apples and an article that I'd written on Sino-Tibetan relations. At the entrance, I saw his bodyguard and driver, standing just outside the main gate. I greeted them, but they just glanced at me. "You can go in," the gatekeeper, an old man, said. "Thank you," I replied politely and walked in.
Inside, my teacher's nephew, the secretary, was waiting for me. It was around eight thirty in the morning and he said Rinpoche's having breakfast in another room. The secretary had a very calm demeanor and spoke softly. I made some small talk with him first and then he began to tell me about Rinpoche's work. "Our members of parliament are the ones who slow down Rinpoche's work. They ask their questions, some sensible but some senseless, and that eats up most of Rinpoche's valuable time," he said. "That's why not much time is left for Rinpoche to work on other important things efficiently during his office hours."
While we were chatting, an Indian man entered the room carrying two bags full of biscuits. "You can put them on the table" the secretary told him. I glanced at the Indian man as he placed the bags on the table. "The biscuits are for Rinpoche's dogs," the secretary explained. "Rinpoche has dogs?" I asked. "Rinpoche loves dogs very much. Every day after work, he feeds biscuits to the homeless dogs of Gangkyi. The dogs also love him as well," he replied. After the Indian man went into the kitchen, the secretary told me that he had to take leave to attend a ceremony somewhere. I said good-bye to him as he left.
After a while, Rinpoche came out of the other room followed by a Tibetan lady carrying a thermos and a cup. She might have been the maid. As he walked in toward me, I stood up and introduced myself to him but he didn't say anything in response. I wondered if he'd heard me clearly. He sat on the sofa and I also sat down. He took out his pocket watch, one of those that come with a chain, and looked at the time. As he settled himself on the sofa, I noticed how he was leaning his upper body oddly to the left, with one elbow on the table and his jaw resting in his left palm. During this whole time, he never looked at me but instead stared at the table in front of us.
He then started to speak. "In order to have a meaningful life, there are four main factors," he said. I listened carefully, "The first thing is your health. It really doesn't matter whether you are rich or educated. If you are not healthy, you can't achieve anything. Even your education can't serve your community for very long. This is why it is very essential to take care of your health when you are young." Rinpoche spoke while at the same time he was chewing on a candy. I wondered that he might be taking it to keep his mouth from running dry. I also noticed that he'd occasionally rub the tip of his nose with two fingers.
His eyes were still fixed on the table in front of us. He continued, "We are very negligent about our health when we are young, but once we reach forty then we understand the importance of health. Therefore, if you are someone who wants to serve your community and country, you should take good care of your health when you are young." Then he paused and finally looked at me. I nodded and bowed to him. The Indian guy came out of the kitchen, placed two cups of tea on the table and went back inside. He must be the cook who worked there, I thought.
"The second most important thing is the purpose of your life." Rinpoche said,  "As a human being, having a purpose in life is very important. It is also important to find that purpose before you are twenty." I listened.
"At the very least, you should have a clear purpose before twenty five. If you don't have a clear purpose in your life, then many things that you work for and accumulate might be wasted. Therefore, to have a successful outcome for your efforts, it is crucial to have a clear purpose. You could have several purposes in your life, but you should make sure that all your efforts and energies are carefully and rightly invested for that purpose." he said.
His left hand had now moved to play with the thin growth of facial hair on his chin. There were a few long grey ones. "The third thing is to become a person who has his own wisdom. Having wisdom means having the intelligence to differentiate what is right and what is wrong in your life," he said, "If you have wisdom, whatever you do, you won't hurt others and you won't waste your effort. In a nutshell, what I mean to say is that you should use your brain with wisdom. If you have all these three main things, I am certain you can have a successful life, but I doubt if you can have a meaningful life."
"To have a meaningful life, these three things are not enough. On top of these three factors, you need to have compassion for others. If you put all these four things together and practice them, then you can have a meaningful life." Rinpoche picked up his pocket watch from the table and looked at the time. I looked at my own watch. It was nine. He stood up. I thanked him and presented a white khata to him with my article in an envelope.
"What's in the envelope?" he asked.  "It is just an article I wrote." I replied in embarrassment. "It is good to write," he said and turned to leave. I stood still until he left the room, feeling blessed and happy that I was able to meet Rinpoche and receive advice from him, but I was also embarrassed that I had had nothing special to say or give to him. I was just a young student.
Originally published in Tibetan on Khabdha in 2008