Lobsang Sangay: Chinese National?

By Maura Moynihan
Monday, Apr 7, 2014
No Comment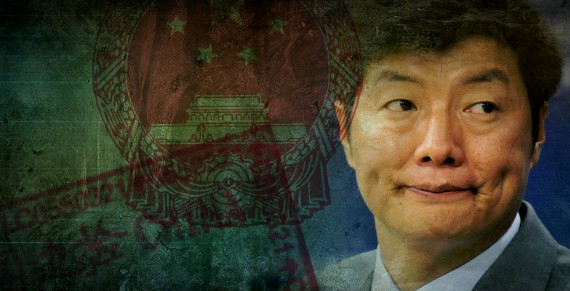 When Steven Spielberg recently announced that he is shifting his film production to a spanking new 2.5 billion dollar facility in Shanghai, one wondered if the director of Schindler's List was briefed about the millions of Chinese people murdered by Mao's regime and the millions still imprisoned in China's labor camp system. The legitimization of China's one party dictatorship continues apace, but not everyone is on board for the ride; at the recent DAVOS Economic Forum, Japanese Prime Minister Shinzo Abe gave a powerful oration telling the western powers that they should make clear whose side they are on; Communist China, or Asia's democratic states, Japan and India chief among them.
India is one of the few nations left standing that can mount a moral and strategic defense against China's rise. While western nations can appease Communist China, India must contend with increasing Chinese military incursions into Indian territory, from occupied Tibet. India has given sanctuary to thousands of Tibetan refugees, notably Tibetan Buddhists who are persecuted by the Chinese state for practicing their ancient faith. Thus the pro-China stance of the Tibetan exile prime minister based in Dharamshala, Lobsang Sangay, is all the more disturbing.
In his May 2013 speech at the Council on Foreign Relations in Washington, Sangay stated that henceforth the Tibetan movement would abandon democracy as a goal, accept communist rule in Tibet in its present structure, and accede to China's full "discretion" in militarizing the Tibetan plateau. This took many by surprise, but Sangay's pro-China drift has been some time in coming. While studying at Harvard Law School, Mr. Sangay made a very public alliance with Ms. Hu Xiaojiang, whom intelligence sources identify as a Chinese Ministry of State Security co-optee. Hu is so trusted by the Chinese government that it allowed her access to the ultra-sensitive government archives in Lhasa to research her 2003 Ph.D. thesis on Chinese migration into Tibet. (Hu makes special note of Sangay in her acknowledgements).
In a defensive speech before the Tibetan exile parliament in Dharamshala on March 22, 2014, Sangay tried to evade questions over his use of "Overseas Chinese National" travel papers on an academic junket to Beijing and Shanghai in 2005. Sangay had long denied that he made this trip on "Overseas Chinese National" papers until he was confronted with irrefutable evidence in 2011 (a clip of this exchange can be seen on YouTube). The issue of concern is his willingness to declare himself a Chinese citizen while continuing to hold a Tibetan refugee identity card issued by the Indian government.
In the same speech before the Tibetan parliament, Sangay also refused to explain how he managed to pay off a $227,000 mortgage just one week before he was inaugurated as the exile prime minister. In all representative democracies, candidates must disclose the source of their finances, but Sangay will not explain how, just four years after buying a house near Boston, he paid off a quarter-million dollar mortgage in full, and with such fortuitous timing. No one would begrudge him his good fortune if he has a patron who supports Tibetan democracy, so why is he unable to provide a full account of how his mortgage disappeared overnight?
Prior to the grilling he received in Dharamshala, Sangay gave a public talk on March 5, 2014, at the Washington headquarters of the National Endowment for Democracy, where he stated that his abandonment of democracy and acquiescence to Chinese militarization is no different than the policy laid out in a memorandum issued by his predecessor, but a careful reading of this document shows Mr. Sangay's assertion to be insupportable. Sangay went on to describe how he is portrayed in Tibetan thankas (religious paintings) in the place of a deity. He claimed that he had received His Holiness's approval, and moreover that His Holiness had reasoned that other laypeople like past Chinese emperors had also been portrayed in thankas.
What does Sangay's comparison of himself to a Chinese emperor does reveal about his ambitions? When Sangay stated that he embraced Chinese communist rule, the courageous Beijing-based Tibetan writer Tsering Woeser said she felt like she had been "punched in the gut." Woeser joked that Mr. Sangay should join the Communist party since he wants to be the "Obama of China" a reference to a talk Mr. Sangay gave back in 2008, when he said "I nominate myself as the next president of China."
In this context, Mr. Sangay's language regarding His Holiness the Dalai Lama is cause for concern. In a 2003 article entitled "Tibet: Exiles' Journey", Sangay refers to His Holiness the Dalai Lama as "the Lama" fifteen times, a level of disrespect usually seen only in Chinese Communist propaganda. In this same article, Mr. Sangay describes the old Tibet as "feudal" and Buddhist monks as "reactionary".  Again, this is language seen in Chinese propaganda tracts about Tibet, as a Google search of Xinhua articles will reveal. As India faces a growing threat across the Himalayas from Chinese-occupied Tibet, it must ask itself: who is this ambitious young Tibetan exile politician, what are his ambitions, and where are his loyalties?
Originally published on April 4, 2014 in the Asian Age