Remembering a great son of Tibet

My Homage to Sonam Topgyal
By Vijay Kranti
Tuesday, Jan 1, 2013
No Comment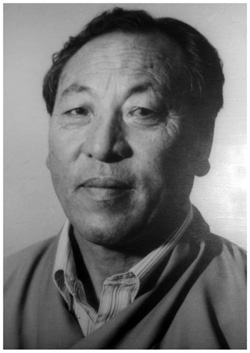 I am deeply saddened by the news of my old friend Sonam Topgyal la passing away. In my 40-year long association with Tibet and Tibetan people, Topgyal la belongs to that small group of Tibetans who have deeply influenced my impressions, feelings and my association with Tibet.
I met him first in November 1972 on my first ever visit to Dharamsala as a young freelance feature writer. A prominent Hindi news weekly 'Saptahik Hindustan' has asked me to write about the Tibetan refugee community and its national struggle along with an interview with HH the Dalai Lama.
At that time, Topgyal la was heading the Information Office which was latter upgraded to what we know today as the 'Department of Information and International Relations' (DIIR). Obviously, he became my main contact with the Tibetan Government in Exile during that visit.
Not only that Topgyal la helped me in my visits to various Tibetan institutions in Dharamsala and to the Private Office of His Holiness, it was through him that I came in contact with most other young Tibetan leaders who later became my personal friends. This group included Lodi Gyari, Tendzin Choegyal, Tenzin Geyche, Lhasang Tsering, Jamyang Norbu and Wangchuk (popularly known as 'Screw Driver' for his technical proficiency that was indispensible in McLeod Ganj those days to handle electricity problems and public address system at most government offices including Theckchen Choeling). What impressed me most was their personal and collective commitment to the cause of their country which I found quite infectious and overwhelming — a spirit which I've been missing badly among my own Indian peers.
I cannot recall his face without his signature smile. Topgyal la was a man of very few words but endless wisdom which gave him an outstanding stature among the top youth leadership of those days and later when he rose the highest rank as the Prime Minister of the Exile Government. For me, it was a happy coincidence that I was being introduced to Tibet through the very first generation of Tibetan refugee community who had the unique privilege of getting modern education. Most of them were in the process of taking over responsibilities from their elder generation which, despite its obvious limitations of language, modern education and international exposure, had just successfully pulled the exile community out of its initial traumatic phase.
Because of his education at Sarnath Institute (CTIH) Topgyal la could speak reasonably good Hindi, but unlike his most other peers, he had serious problems with English language. But it was his other extraordinary abilities as a great thinker, analyst and a strategist which never let anyone even feel his handicap in English language. His founding role in the establishment of TYC and 'Sheja' in his earlier years and his contributions towards the national polity in the following decades is bound to give him a very respectable place in the exile history.
I am sure that had he given desired attention to his English language proficiency, he would have been far more loved and adored in the international circuit. But I doubt he ever cared for it, surely not for winning fame or developing any fan clubs for himself.
I met him last about two months ago when another dear friend Lhasang Tsering la very kindly accompanied me to Topgyal la's home near Norbulingka Institute. After hearing worrying news about his health I was quite worried about him. He did look physically weak when I met him. But he was almost as composed and as much in command of his speech and thoughts as I had always known him for.
When I went first time to Dharamsala, it was just another professional assignment. In normal cases we journalists meet so many people, write on so many subjects and then quickly forget them also. But it was something infectious about people like Sonam Topgyal la and his gang which hooked me to Tibet. Forty years on, and the love affair is still going on.
Thank you Sonam Topgyal la! I will miss you ever. But Tibetans like YOU will always keep those friends of Tibet like me assured, who have many reasons to be worried about Tibet. Thank you.