Last Night I Had a Dream

By Carlo Buldrini
Thursday, Sep 13, 2012
One Comment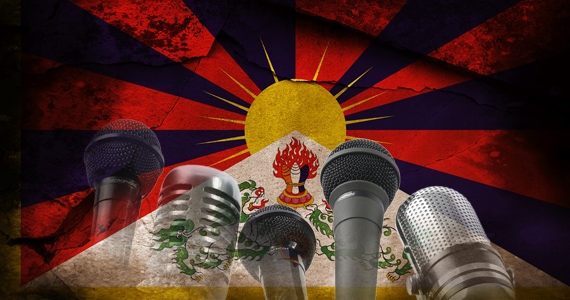 Last night I had a dream. Tibetans everywhere — both inside and outside Tibet — were in a state of great excitement. The Kalon Tripa was to make an important announcement. I was surprised when I saw him. The prime minister bore no resemblance to the man described a few days previously by the Italian weekly L'Espresso as "tall and athletic; as handsome as Gregory Peck". This Kalon Tripa was short and toothless, with sticking-out ears. Dozens of microphones bearing the names of the world's major radio and televisions networks were lined up in front of him.
It was incredible: I don't speak Tibetan, but I still managed to understand everything the Kalon Tripa was saying. He cleared his throat, then began to speak. "We believe that, like every other people in the world, the Tibetans have the right to be free and enjoy the fruits of their labour. Tibet's Chinese government has deprived the Tibetan people of their freedom. It is based on exploiting the local population. It has ruined the country from an economic, political, cultural and spiritual point of view. We therefore believe that Tibet must break off all ties with the People's Republic of China and regain complete independence."
Then there was the much-awaited announcement. The Kalon Tripa proclaimed a "hartal", a general strike, throughout Tibet ("in our provinces of U-tsang, Kham and Amdo", he specified) on 13 February 2013. "Not one Chinese or any of their property must be touched," he said. It was what he said next that had the greatest importance for the Tibetans: "The strike has the blessing of His Holiness the Dalai Lama."
Fast forward, in my dream, to the day of the strike. I saw thousands of Tibetans sitting on the ground, crouched on the asphalt of the main roads in every populated area in Tibet. Life in the country was totally paralysed. Gun-toting People's Army soldiers in riot gear faced the demonstrators. They seemed perplexed. Their trucks would be laughably insufficient if they had to transport all these people to prison. Firing on them would mean hundreds of Tiananmen Square-style massacres; the whole world would be forced to interrupt trade and economic relations with China. The Chinese police stood there without moving for hours, like the statues discovered inside the Ming dynasty tombs.
In the evening the Tibetans returned in their homes. For the first time in 63 years they were feeling happy. Many of them couldn't explain why. After all, nothing had really happened.
* * *
(Translated from Italian by Lakshmi R. Iyer)