Kailash: An Appeal

By Elliot Sperling
Thursday, Jul 14, 2011
One Comment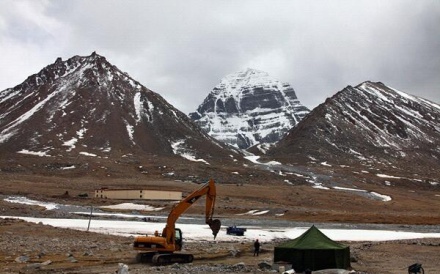 Sometimes one wants to rub one's eyes in disbelief at how degrading things seem to become when someone in China discovers tourism value in particular Tibetan Buddhist sites. On her indispensable blog Woeser has written two posts about the sad state of affairs at Chengde, the Manchu summer capital, where the 18th-century replicas of Tashilhunpo and the Potala now host Chinese pseudo-monks who cater to (mostly Chinese) tourists' vulgar misconceptions about Buddhism in general and Tibetan Buddhism in particular. Agreed, the site is not in Tibet. But it is nevertheless a depressing example of the commodification of what would otherwise be considered a sacred historical site (one of the blog posts is available in English over at High Peaks, Pure Earth).
Now comes word, again thanks to Woeser, that the already lamentable roadway being constructed right by the traditional circumambulation route around Mt. Kailash will be widened to allow for use by motor vehicles of all sizes, all as part of a major tourist development of the area. Just thinking about the representation of Buddhism at Chengde, one can imagine the newly hired guides at Kailash explaining that a ride around the sacred mountain is believed by Buddhists to bring one wealth and riches…
The private stock offer plan for 2010 of the Tibet Tourism Company Ltd., which specifically uses the development of the Kailash region for tourism purposes as bait for investors seeking market profits has been posted by Woeser. But the degradation of this religious site for the benefit of Chinese investors is not simply another insult for Tibetans to bear; it is a slap too at Indian pilgrims who also venerate Kailash as the abode of Śiva and visit and circumambulate it.
Woeser draws on Wang Lixiong's description in Tianzang of Tibet as an immobile body, helplessly picked apart by birds of prey, to represent Tibetan impotence in the face of the blatant milking of Tibetan religious culture for financial gain. Her appeal for a halt to the development of the Kailash region (and the region of Tso Mapham) for monetary profit has received some notice abroad, but in view of the environmental and cultural debacle foreshadowed by these development plans, more concern is urgently needed.
Update: A translation of Woeser's latest appeal has been posted at High Peaks, Pure Earth. A new post of hers, mentioning the Guofeng Group (国风集团), the Beijing-based parent company of the Tibet Tourism Company Ltd. is also up on her blog, as well as another post of an essay she wrote in 2002 about her own circuit around Kailash. The post has a good number of Woeser's photos from that circumambulation. The essay itself was included in a picture book published in 2004 and then banned. As she notes, this was her second banned book.
Further Update: Woeser keeps adding to her posts about the Kailash situation, so those who can read Chinese are advised to check her blog periodically. Even those who cannot might want to take a look at one particular recent post about her 2002 trip. It includes an English-language comment that an Indian reader posted on High Peaks, Pure Earth, as well as a good number of photos of her encounters with Indian pilgrims performing the circuit around the sacred mountain.