Appalling Show of Conduct to President

Press statement

By Tibetan Youth Congress
Thursday, Jul 14, 2011
2 Comments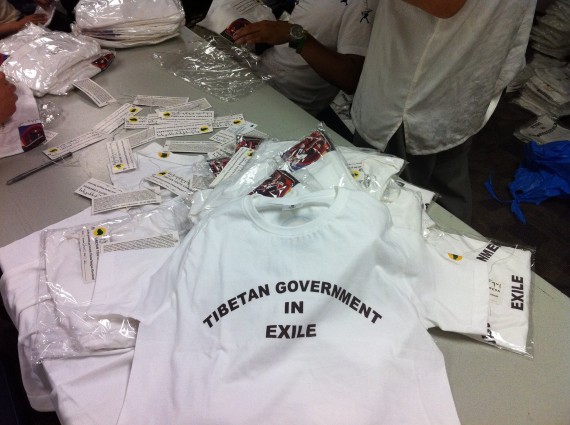 While the Kalachakra Initiation in Washington DC was ongoing, TYC had arranged a small stall to sell its merchandise to raise funds for its activities. The stall was manned mainly by the President of TYC, Mr Tsewang Rigzin, with assistance from regional Tibetan Youth Congress chapters in the US. On July 14, he was rudely expelled from the Verizon Center (the Kalachakra venue) by Mr Kalden Lodoe, the President of Capital Area Tibetan Association and the Co-Chair of Kalachaka 2011, for selling T-shirts bearing the text, "Tibetan Government in Exile". This was considered too political.  Mr Kalden Lodoe even threatened to call security if Mr Tsewang Rigzin did not leave the building immediately. This T-shirt has been on sale since the beginning of the Kalachakra Initiation, a week ago.
Additionally, while he was ejecting our President, Mr Lodoe made a reference to the Secretary of the Private Office of His Holiness the Dalai Lama. When TYC contacted Mr Tsegyam (the Secretary) to inquire if he had any knowledge about this incident, it was told that while the Private Office had been aware of TYC's presence and its stall in the venue, the contents of the merchandise it was selling was not relevant and that people were free to sell and buy whatever they liked. This clearly indicated that by indulging in name-dropping, Mr Lodoe was misusing his privilege as someone in charge of organizing this event.
Moreover, the fact that he tried to intimidate our President by threatening to call security was a direct attack against an organization that has over the decades kept the alive the spirit of the struggle for our cause. In the last 52 years of Tibet's tragedy, Tibetans have suffered separation, loss and untold miseries. While Tibetans in Tibet are labeled "splittists" and suffer arrest, beatings, torture anddetention for even remotely showing signs of recognizing and respecting our exile government, we who live in the free world should be able to express ourselves without any fear or intimidation. Yet, it appears that those of us who demonstrate the same love, respect and gratitude for our government in exile are now viewed as the adversary. Isn't this a sad and tragic situation?
Today, the President of a 35,000-member organization and the symbol of Tibetan independence was insulted, humiliated and disrespected. The head of a movement, which has proved itself to be a strong opponent of China and which is the bedrock of faith of Tibetans both inside Tibet and in exile was insulted in such a despicable manner by a fellow Tibetan. This appalling act is a direct attack against the movement and the spirit of Tibetan independence, and demonstrates a total lack of understanding and respect for the hundreds of people who died for our cause as well as those who continue to keep alive their aspirations for Tibet in the last 52 years of our struggle. This kind of behaviour by a Tibetan is one that makes our enemy happy and saddens our own kin. It raises serious concern and doubts about what and who could have incited Mr Lodoe to engage in such an action.
By misusing the title of the Secretary of the Private Office of His Holiness the Dalai Lama, Mr. Lodoe has indulged in a serious misuse of his position as the Co-chair of the Organising Committee of Kalachakra 2011. TYC is extremely disappointed and it asserts that if we tolerate such an issue, it will only show that TYC has ignored the sacrifices made by hundreds and thousands of Tibetans and will demonstrate our lack of responsibility towards maintaining the dignity of our movement. Therefore, TYC has called this press conference to seek a written and oral public apology to the President as well as the organization of Tibetan Youth Congress latest by 15 July 2011.
TYC's pledge to continue to honour, recognize and use the name "Tibetan Government in Exile" (Tsenjol Bo shung) in body, speech and mind is not only aimed at safeguarding the historical legacy of Tibet's independence but is also to ensure that this continues to provide us with the strength and inspiration we need in order to restore Tibet's independence. Regardless of any pressure from any source, TYC will continue to use this name with pride, and will also distribute this T-shirt, for which we were so appallingly humiliated.
Note: Translated from Tibetan which should be considered final and authoritative