Art House

By Elliot Sperling
Sunday, Sep 26, 2010
One Comment
There was something terribly depressing about reading Tenzin Nyinjey's recent response to Norbu Samphel—Norbu Samphel, readers may recall, had mounted a somewhat surreal defense of obscurantism and a cult of personality as essential elements of democracy. It was not that Nyinjey argued his case poorly. On the contrary, he did a fine job of demolishing what amounted to a call for demagoguery as a governing principle for Tibetans in exile. What was depressing was that Nyinjey had to make his case at all.
It is over 15 years since Lhasang Tsering and Pema Bhum translated Thomas Paine's Common Sense and then brought it out in a good, accessible edition published by the Amnye Machen Institute. One would think that the level of engagement with democratic theory signaled by such a publication would have marked the beginning of a broad understanding in Tibetan exile society of basic democratic principles, among them the right to democratic government. But no, here it is, 15 years on, and it's as if few have ever bothered to read Paine—and this in spite of a cogent discussion of the Tibetan translation by Mila Rangzen on these very pages in May of this year. It would appear now that Tibetans are being urged to continue adhering to the notion that it is a supreme leader who will determine policy while they "democratically" follow and refrain from criticism; indeed, they are told that the democracy that does exist in exile society isn't to be considered the basic right of the people… no, it's the supreme leader's gift.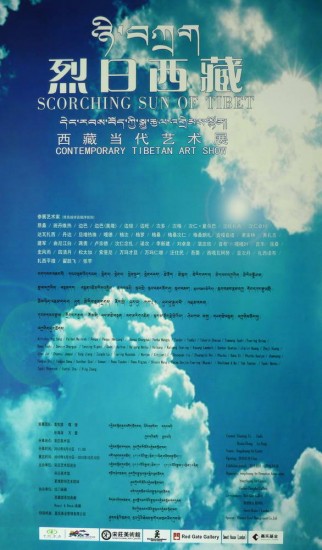 Sigh. Well, there's always art and literature to turn to for some solace, and for signs of independent thinking. And on that note, I should point out that the Amnye Machen Institute, in addition to publishing Thomas Paine, has a worthy history of support for modern Tibetan artists. The institute has, in years past, sponsored exhibits and published small catalogues of works that go beyond traditional norms of what constitutes Tibetan painting. Its work here has been truly laudable.
Over the last ten days a series of posts on Woeser's invaluable blog (here, here, here, here, here, here, here, here, and here) has been allowing readers a new glimpse at the work of a healthy cross-section of modern Tibetan artists; some well known, others less so. Of course the development of modern Tibetan art, especially via the Gedun Choephel Gallery and the "Sweet Tea House" artists, is not an unknown story. But Woeser describes in detail a fresh chapter: the first large-scale exhibition in Beijing of works by modern artists who are Tibetan or are seriously engaged with Tibet. The exhibit presents the work of 50 artists, 80% of whom are Tibetan.
One does not need to understand Chinese to access and appreciate the works that she showcases. Woeser provides a good sample of the work of these (mostly) young artists. And it's clear that while the free atmosphere of India is paradoxically witnessing a numbing miasma of reaction in Tibetan political society, the pressures and repression that are visited on Tibetan cultural expression in the PRC appear, ironically, to be imbuing the Tibetan artistic scene there with real vibrancy and awareness—with a willingness to find subtle ways around imposed limits and to flout expected cultural norms. Perhaps this typifies the strength borne of such circumstances. In any event, it's worth clicking over to Woeser's blog for a look. For those too lazy or exhausted to click, here are a few of the works from the exhibit: