Jamyang Norbu's Talk on Independent Tibet

Zurich, June 5, 2010

By Web Chowkidar
Monday, May 31, 2010
No Comment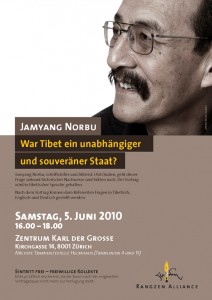 Jamyang Norbu will deliver a new Rangzen lecture on June 5th at the Zentrum Karl der Grosse in Zurich, Switzerland.
The lecture, entitled "Was Tibet an independent and sovereign state?", will be given in Tibetan and will be accompanied by a slideshow with photos, maps and rare documents.
This lecture follows last April's talk at the Toronto Tibet Film Festival, when Jamyang Norbu gave his presentation "Independent Tibet – The Facts".
Download one of the flyer and distribute it among your community and friends:
German flyer (PDF)
Tibetan flyer (PDF)