A Brief Account of the Detention of Friend Shogdung

By High Peaks Pure Earth
Tuesday, Apr 27, 2010
No Comment
High Peaks Pure Earth has translated the following blogpost from the Xining-based Tibetan website www.sangdhor.com.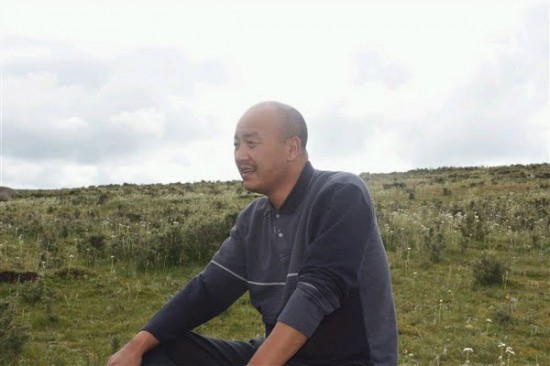 Several days ago, thousands perished in the massive earthquake in Yushu and it caused suffering for tens of thousands of people. People who are from different countries and languages came together to mourn the tragedy and donated to the people in both direct and indirect ways. However, at this time, to everyone's surprise, while we are mourning for our brother and sisters, our friend Shogdung was arrested by the national security offices.
At 5pm on April 23, apparently five or six police officers from Xining Police Station came to the Qinghai Nationalities Publishing House and took Shogdung to his house and then they searched his library and house. After taking some pictures, they took him away. In the evening at 10pm, several police officers came to his house again and took his two personal computers, saying that the police behavior was not so rough. Again at 3am in the morning, according to his wife Lhatso, the police came again to his home and handed them the arrest warrant and asked for some bedding for him. Taking the arrest warrant, in the early morning, two of his daughters and others went to see him at the local police station but they were not able to meet him and his whereabouts are still unknown.
Three days after the earthquake, he had wanted to go to Yushu but he did not get the permit to go there. So he stayed in Xining. Until the day of his arrest, he was busying himself with helping the relief efforts and counseling for injuries. Needless to say, at this time the arrest brought additional sad news for his family and friends. However, we think about our brothers and sisters who died in the earthquake, we should not be that sad. Since the day of his arrest, friends and others constantly called us and asked his condition and all expressed bemusement and surprise. However, if we think about this carefully, we should not be surprised at all. Just one month ago, isn't it that Kirti Kyab from Zoege county  and other teachers were arrested and not yet released? After that isn't it that Therang (Tashi Rabten) and Shokjang (Druklo) from North West Nationalities University were also arrested? Who knows what will happen to every one of us? This is for now and we are worrying about how this is going to develop in the future.