Motorcyle Diaries of Free Tibet World Tour

April 25th, Toronto, Canada.

By Tenpa Gashi
Monday, Apr 26, 2010
One Comment
"I think about my little girl a lot. She is four years old now. I call home every other day. I miss my little girl the most"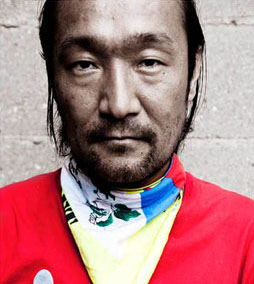 Lhakpa said wistfully and his gaze withdrew inside him as it always does when we reflect on something important to us. He was responding to my question about what he thinks about on the road itself, those long dreary hours in open space between towns and cities, when he has to actually ride the bike on his own and battle the climate, the cold, the heat, the ache on his body, far away from the adoring fans, friends and family. He knew the price and he is determined nonetheless and that makes his feat remarkable in many ways. We only have to put ourselves in his shoes for just a few minutes and we will understand his sacrifice; mortgage, job, wife, little girl, friends, barbecue on Sunday afternoons and his future are all on hold to do something meaningful for his country and his people. And this is not the first time he had undertaken such an endeavor. Back in 1996, barely a year after he landed in the US, he joined Takster Rinpoche's Peace March from Washington, DC, to New York City and again in 1998 from Portland to Vancouver, gruelling journeys which could span upto to three months on end, that will test your patience, fortitude, and inner strength. As we all know Takster Rinpoche is the elder brother of H.H the Dalai Lama and an ardent Rangzen supporter who has unfortunately passed away now. After the March 2008 uprising in Tibet, Lhakpa was immensely inspired by his brothers and sisters inside Tibet who risked everything to bring the Tibet issue to the forefront – many actually did pay with their lives and many more are still languishing in prison cells subjected to inhumane torture. If they could risk so much, then he felt, it behooves him to do something similar in the free world where he doesn't have to fear imprisonment and death.
Another important factor in his endeavor is his wife who is of Jewish descent. He listened to the story of the Jewish people and their immense suffering for thousands of years for simply being who they are, their homes destroyed again and again, forcefully taken away to other countries as slaves, and dispersed like dust in the wind. We don't need to mention what happened to the Jews under Hitler in the concentration camps and the gas chambers in our own century. And yet, again and again they managed to survive, hold on to their culture, keep their faith alive, and persevere. It made him think the story of Tibet is quite similar and if they can stay alive as a culture and as a people, then the story of Tibet is not finished yet – not by a long shot.
"…and my wife told me that even one person can make a huge difference and I strongly believe that. Each one of us can make a huge difference if we put our mind to it and if we believe in our cause. I have a website (Freetibetworldtour.com) which has received quite a bit of hit, from all over the world, and especially from Tibet. I had like an hour with this lady from Voice Of America and her program is followed widely in Tibet and I hear good stuff from them. I also met some Tibetan students from Tibet who are in Universities in the west who were truly appreciative of my efforts and mentioned that people in Tibet look to the Tibetans in exile for inspiration and each demonstration, protest, and publicity tour for Tibet like mine gives them hope and courage and makes them happy that there are Tibetans out there who can stand up to the Chinese and expose their lies"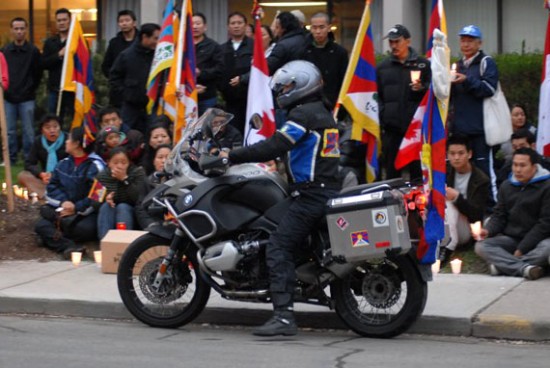 Lhakpa stands about five foot ten inches tall with a ponytail on a rather lanky frame. I don't know if he was always this dark or the sun and the exposure to the climate on his travel made him darker than usual. It doesn't really matter. His mother died when he was just a toddler and his father, unable to care for many children, put him in TCV orphanage. Naturally, since most of his friends and peers at that time being orphans themselves, he considers them his brothers and sisters. This will kind of explain the close bond TCVians share with each other wherever they may be in the world and goes beyond simply sharing the same high school. He was pointing out the tire threads on his wheel which looked bald and worn out and said he is going to get it changed in Montreal. The windshield on the BMW 1200GS Motorbike had thousands of unlikely and perhaps unwilling travel companions splattered on it. He had on a complete motorbike windproof pants and jacket with the National Tibetan flag proudly sown on it. He tapped the knees cups and explained he is fully protected and the special boots he wore had mechanism that will help prevent any sprains to his ankles. That was more for the few grandmothers who expressed concern about his clothing and his safety on the road. It is very clear that those who were there to receive him felt a connection to him and to his mission and really wanted to let him know it was appreciated. Wherever he went, he was warmly received by Tibetans, all the major Tibetan organizations and Tibet supporters. It was the same in Toronto and where he was at hand to witness the grant of 3.3 million dollars for the renovation of Tibetan Cultural Centre and he was duly impressed by the Canadian government dedication to the preservation of Tibetan culture and heritage. He was also able to attend the candle-light vigil in front of the chinese consulate on the 21st birthday of Panchen Lama and promised to also highlight the shameful abduction and forceful confinement of Tibet's second highest lama during his Free Tibet tour. I encourage everyone to keep a keen eye on his progress on his website and leave notes of encouragement and appreciation. If there are people who can ride with him for a day or two or for a certain length of time or distance, I am sure he will appreciate the company.
Now, as Lhakpa continues his journey through Ottawa, Montreal, Burlington, New York, and the European leg and finally ending up in India, he is creating a bond, weaving a fine tapestry all around the world, between tibetan communities and their supporters, educating new people about Tibet, inspiring the youth who will observe his endeavor today and remember it for tomorrow, and keep the hope and dream of a nation alive. Like he said, each and everyone of us, no matter how insignificant we might feel, can make a difference. He is proving it to you right now. While he thinks about Tibet and his little girl at home, lets think about him and his family and why he is doing the Free Tibet bike tour.
"Tenpa, I will see you again," he said as he warmly clasped my hand. The last time he said that was when we attended the Kalachakra in Bloomington almost a decade ago. He still has six more months of travel left to do through twenty-two countries in four different continents. I hope it goes smoothly and he reaches his destination without much difficulty.
"I sincerely hope so," I said with a smile and he rode away on his bike with a little wave. The Tibetan flag perched on the back of his motorcycle fluttered proudly in the street light, drawing some curious looks from the pedestrians. The motorcycle diaries begins anew and the Tibetan revolution continues.

* * *
For more info, check Lhakpa Tsering's website: www.freetibetworldtour.com