Artiste by Chance

By Bhuchung D. Sonam
Saturday, Apr 17, 2010
No Comment
The time was 8 a.m. on 1 May 1984. All the members of the Tibetan Music, Dance and Drama Society, even the gatekeeper, were in the shrine room reciting invocations and prayers — dedicated to the patron sage of Tibetan opera, Thangtong Gyalpo — when they heard shouts of "Fire…Fire!"
"I remember it very clearly," he says.
Everyone rushed out to find that their performance hall was engulfed in flames. They tried to salvage anything from the burning building. Huge tongues of flame rose in the sky as the British era stable-turned-hall was being reduced to ashes. The wooden structure had been in duty for a long, long time. It was as dry as an old yak horn in a dried up river bed.
"It was the lowest moment in the institution's life," he says. "There was talk about it closing down."
∗
Sonam Phuntsok or Jhola Sonam, as he's known to many, grew up in Upper Lachen in North Sikkim, an Indian state adjacent to Tibet. He was born to a Tibetan mother and an Indian father, who Sonam never saw.
"This was the best thing that could have happened to me because it gave me a chance to assert myself as a Tibetan, to grow up in exile with its culture and its music," he says. We are sitting on the rooftop of a building facing the basketball ground; a group of young artistes are immersed in a soccer match. A growling 500-cc motorbike momentarily drowns all noises. Sonam remains silent for a while.
"My mother sent me to Dharamsala to go to school," he resumes.
However, when Sonam and eleven other youngsters from Sikkim were taken to a room in the Branch Security Office on Bhagsu Road, McLeod Ganj, three of the kids were selected to become dancers for the Drama Society. Sonam was one of them. His life's direction was unalterably decided on that day. He was eleven.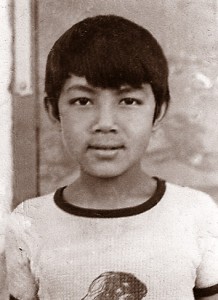 The Drama Society then was a different manifestation far from today's impressive Tibetan Institute of Performing Arts (TIPA). The name change happened in the 1980s. In the early days many members suffered from tuberculosis and other diseases due to lack of proper nutrition and healthy living space. Sonam had an extra burden because of his lack of language. He only spoke Sikkim's Lachenpa dialect and Nepalese. His Tibetan was no more than a collection of jumbled words with a thick Nepalese accent.
For the first couple of years he attended the Tibetan Day-school and took music lessons in the evening. He left school after Class II to be a fulltime artiste. During the years that followed his day started early in the morning with a prayer recitation followed by various classes in dance, music and opera performance until seven in the evening.
"We had only one danyen, which we took turns to practice on," he says in disbelief. There were over fifty students then. "Today there are at least two danyens for every student."
When he was around seventeen, Sonam seriously toyed with the idea of pursuing another line of work, maybe even joining the army. His salary at the Drama Society was a miserable nine rupees a month, which is about 5 cents. Sonam's mother had only wished him to finish school, get a job and start helping her financially.
"I wanted to help my mother. But I could not," Sonam laments. To augment his meagre wages, and to earn small ngyenpa or gifts, he ran errands for senior artistes and staffs, who gave him a biscuit here and a tingmo there. He was too broke that he could not go to meet his mother for the first five years after coming to Dharamsala, Tibet's exile capital.
Despite the hardships, he stayed on and took an active part in learning to play various musical instruments and to sing opera arias. "It is my karma, I think. I am destined to be with this institute. No matter wherever I go, I just come back," he says. This is Sonam's 32nd year in TIPA.
Sonam was not the best student. His friends remember that during opera performances he never got to play any important roles. Nor did he have the best voice, he claims.
"But then how did you become the most recognized performer with the best voice to sing opera arias?" I ask.
"1989," he shoots back.
Around the late 1980s many of the senior artistes and most gifted performers left the institute to pursue individual professions or had emigrated to the West. As a result the younger artistes had to fill their roles − in song and dance presentations and in opera performances. Sonam's star began to rise. Years of training and new opportunities somehow opened hidden talents and his voice got fine tuned. In 1989 he was appointed as the opera teacher, a position until then was filled by the venerable opera master, Norbu Tsering.
Sonam's role as a Gyalu − a part usually played by the most accomplished senior artiste − on the occasion of Dalai Lama's winning the Nobel Peace Prize in December 1989, was the peak moment in his life. For the first time he played the foremost role in celebrations for a historic event. The courtyard of the Tsuglakhang was packed with people. The VIPs took their vantage positions under the balcony. Happiness danced in the air as everyone was overwhelmingly enthusiastic.
Sonam was nervous playing Gyalu, the central character in the prelude before the opera begins, but he sang with an intensity that rose from deep beneath. After the performance Kungo Ngawang Choesang, a foremost connoisseur and an opera enthusiast in exile, came to him, shook his hands and said, "Boy! That was a hell of a performance!"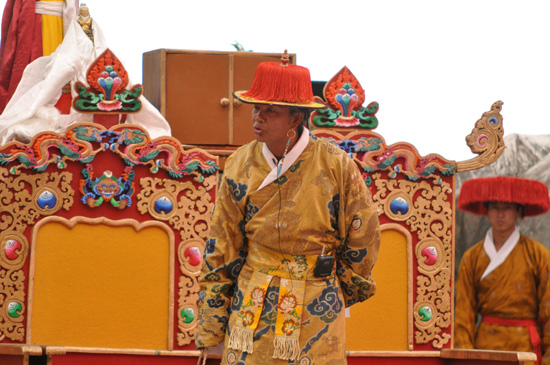 ∗
Reflecting on the institute and his life there for the last three decades, Sonam gets a little nostalgic. His voice turns soft. He looks around the cluster of houses that we could see from the rooftop. "The 1980s were the peak time in terms of creative output from the institute," he recalls. "And as an artiste I miss Jamyang Norbu the most. We suffered both in creative ways and in leadership. We could have travelled much further if he had stayed on."
Norbu was a charismatic director, who introduced many innovative and profound changes in the institute. Unfortunately, he was "officially removed from TIPA" in 1985 after some controversies over the production of an opera Chamksam or The Iron Bridge. This was said to be the immediate cause of his dismissal. Deeper reasons may have to do with some self-proclaimed guardians of tradition, based on their narrow views, and a few smug politicians.
However, it can be said with pride and confidence that the TIPA of today is a premier institute in exile which preserves and promotes traditional Tibetan performing arts. Its members, both past and present, are also instrumental in creating new songs and music that is being played in exile Tibetan communities scattered across the globe. Many songs find their way into occupied Tibet. A few even are heard in rural Tibet where children dance to them amidst dust raised by passing Chinese military trucks.
As opera master and an instructor, Sonam shares his knowledge with young artistes. The major difference between past and the present students, Sonam observes, is that these days students have less interest in the opera.
"Song and dance is what they want to do," he says.
Sonam is a first-generation Tibetan, born and raised in exile, who has immersed himself in opera performance and serious vocal training to sing opera arias. He is one of the few rigchik kangzinpa or professionals specialising in a chosen field.
"I think it comes with age," he explains when I ask him about his special interest in the opera. "I was the weakest in terms of voice and skill in the class when I was small." As he grew older, he realized that opera has a special charm as well as a challenge. "I listened to old opera masters and absorbed as much as I could. Singing opera and playing an important role in a major performance requires many different skills. It takes time."
In 2003, Sonam won the award in Best Opera Singer at the Tibetan Music Festival held in Dharamsala.
"It was great," he says. However, like all exiles Sonam has a lifelong dream of going back to a free Tibet and to perform once at Norbu Lingka, the Dalai Lama's summer palace in Lhasa, where operas were performed in the gardens.
"Just once!" he says. "After that it doesn't matter whether I will live or not."