The Unbearable Lightness of Being
By Ryszard Cimek
Monday, Sep 1, 2008
No Comment
GD Star Rating
loading...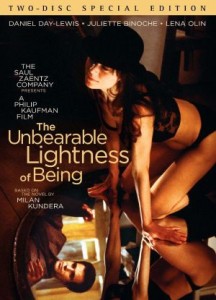 1988, UK, Philip Kaufman
Daniel Day-Lewis stars as Tomas, the happily irresponsible Czech lover of Milan Kundera's novel, which is set in Prague just before and during the Soviet invasion in 1968. Lena Olin and Juliette Binoche are the two vastly different women who occupy his attention and to some extent represent different sides of his values and personality. In any case, the character's decision to flee Russian tanks with one of them–and then return–has profound consequences on his life. Directed by Philip Kaufman, this rich, erotic, fascinating character study with allegorical overtones is a touchstone for many filmgoers. Several key sequences — such as Olin wearing a bowler hat and writhing most attractively — linger in the memory, while Kaufman's assured sense of the story inspires superb performances all around.
For more details, see tt0096332 on The Internet Movie Database.
The Unbearable Lightness of Being

,
Popularity: 3%