The Singing Revolution
By Ryszard Cimek
Monday, Sep 1, 2008
No Comment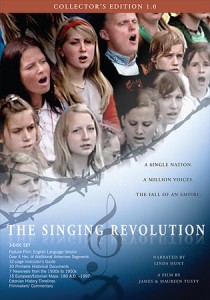 2006, Estonia / USA, James Tusty (Documentary)
The Singing Revolution traces the history of Estonia and the Baltic region from its very roots between 5,000 to 8,000 years ago through to the Singing Revolution. It tells of the conquests that Germans, Danes, Swedes, Poles and Russians had over the country and the many hands that this small nation passed through over the centuries.
The movie concentrates on acts of peaceful defiance of Estonians against their Russian occupiers through peaceful protests. The story is one of the step-by-step reestablishment of Estonians independence without violence and through mass demonstrations of unity and singing.
For more details, see tt0954008 on The Internet Movie Database.
For DVD order, see the movie's website at www.singingrevolution.com.