Paradise Now
By Ryszard Cimek
Monday, Sep 1, 2008
No Comment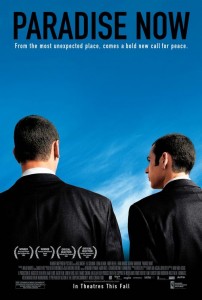 2005, Belgium, Hany Abu-Assad
The story places two close friends, Palestinians Said and Khaled, recruited by an extremist group to perpetrate a terrorist attack in Tel-Aviv, blowing up themselves. However, things go wrong and both friends must separate in the border. One of them, maintaining in his purpose of carry the attack to the end, and the other will have his doubts about it.
In Nablas on the West Bank, Said and Khaled, who have volunteered to be suicide bombers, receive word it will be tomorrow – the cell's first operation in two years. They're shaven and shorn, in black suits to pose as settlers in Tel Aviv for a wedding. Something goes wrong at the crossing, they're separated, and the action is postponed, long enough for renewed questioning of what they're about to do. Suha, the well-educated and well-traveled daughter of a martyr, challenges the action. She likes Said and has her own ideas. "Under the occupation, we're already dead," is Khaled's analysis. Fate and God's will seem to drive Said. We must be moral, argues Suha. Can minds change?
For more details, see tt0445620 on The Internet Movie Database.