Man of Iron (Czlowiek z zelaza)
By Ryszard Cimek
Monday, Sep 1, 2008
No Comment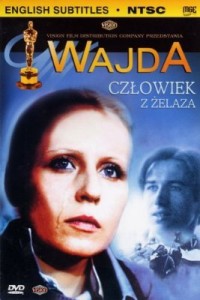 1981, Poland, Andrzej Wajda
Fictionalized documentary capture's rise of Poland's Solidarity movement. Viewers interested in the human stories that make up history will be intrigued by this portrait of a government reporter covering events.
It depicts the Solidarity labour movement and its first success in persuading the Polish government to recognize the workers' right to an independent union.
The film is a continuation of the story of Maciej Tomczyk, the protagonist of Wajda's earlier film, Man of Marble. Here, Maciej is a young worker involved in the anti-Communist labour movement, described as "the man who started the Gda sk Shipyard strike", and a journalist working for the Communist regime's radio station, who is given a task of slandering Maciej. The young man is clearly intended as a parallel to Lech Wałęsa (who appears as himself in the movie). The film was made during in the brief thaw in Communist censorship that appeared between the formation of Solidarity in August 1980 and its suppression in December 1981, and as such it is remarkably critical of the Communist regime. It won the 1981 Palme d'or at the Cannes Film Festival.
For more details, see tt0082222 on The Internet Movie Database.