Closely Watched Trains (Ostře sledované vlaky)
By Ryszard Cimek
Monday, Sep 1, 2008
No Comment
GD Star Rating
loading...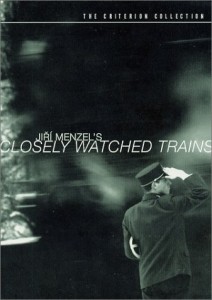 1966, Czechoslovakia, Jiří Menzel
Milos Hrma, a bumbling dispatcher's apprentice at a village railway station in occupied Czechoslovakia, longs to liberate himself from his virginity. Oblivious to the war and the resistance that surrounds him, he embarks on a journey of sexual awakening and self-discovery, encountering a universe of frustration, eroticism and adventure within this sleepy backwater depot. Milos becomes involved in a plot to blow up a German ammunition train, but when the plan backfires, he is forced to commit the ultimate act of courage.
For more details, see tt0060802 on The Internet Movie Database.
Closely Watched Trains (Ostře sledované vlaky)

,
Popularity: 1%