Pathfinder (Ofelas)

By Jamyang Norbu
Sunday, Aug 31, 2008
No Comment
GD Star Rating
loading...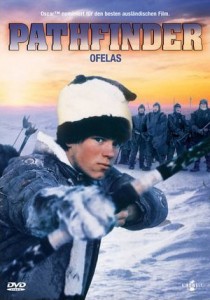 1987, Norway, Nils Gaup
The first film in the Sami language. A young Sami boy in Lapland (northern Norway, Sweden and Finland) 1000 years ago, is captured by black-clad savage invaders who want to wipe out the boy' peaceful tribe. What can he do to save his people? Exciting action-packed film shot against a frozen landscape of breathtaking beauty. Won the '87 Academy Award for best foreign film. A member of the Saami parliament I met in Dharamshala told me that this film had had a tremendously inspirational effect on young Sami's who were loosing touch with their own history and culture.
For more details, see tt0093668 on The Internet Movie Database.
Pathfinder (Ofelas)

,
Popularity: 2%