Cinema '59

Films of Freedom Struggles

By Jamyang Norbu
Sunday, Aug 31, 2008
No Comment
The cinema is for us the most important of all the arts.
— V. I. Lenin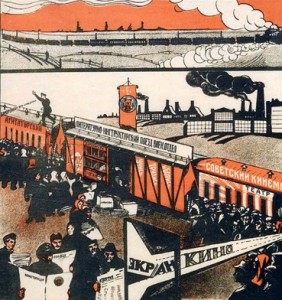 Though the whole Communist experiment has deservedly failed, the Russian Revolution's use of the cinema to spread its political message and galvanize its mainly rural population, is certainly something that the Tibetan freedom movement could emulate to spread and keep the Rangzen message alive among Tibetans and friends.
The Russian Revolution of 1917, besides fulfilling its primary political goal, also sparked off a revolution in the way the function of entertainment and art, especially cinema, changed to become a powerful tool of social and political transformation. Lenin appreciated cinema's value and despite civil war and scarce resources, the Soviet revolutionary cinema was established, reaching even the remotest provinces by train. Such "Agit-trains" spread the Soviet message and led to the dynamic soviet cinema of the 1920s which "shook the world" with a new heroic style – pioneered by such directors as Eisenstein, Pudovkin, Kuleshov and Dovzhenko, and documentary makers, notably Vertov and Shub.
Taking into account the fact that Tibetan society is not extensively literate, and that even among educated people there is not much of a reading habit, the use of cinema to promote the rangzen struggle could prove to be an effective alternative. I implemented the idea it in a small way at the Amnye Machen Institute where we screened The Battle of Algiers, Avad and other films for young Tibetans of Dharamshala.
Film Library on Tibet
This aspect of the project could just be started off by providing a list of feature and documentary films on Tibet. A basic catalogue was put together by Sonam Dhargay la in the 80s for the Office of Tibet in New York, and the Amnye Machen Institute created a more extensive digital catalogue. The AMI database provides detailed cross-references, selection of films by key-words, and also a useful synopsis of the film's content. A more ambitious follow-up undertaking would be the creation of an actual film library (in New York City for instance) of documentary, shorts and features on Tibet that Tibetans and friends could borrow for educational, fund-raising, promotional and awareness-raising purposes
Films by Tibetan Directors
Cinema '59 could also provide a forum for aspiring Tibetan filmmakers who, at the moment, receive little acknowledgement, encouragement or support elsewhere. Old and new Tibetan films could be discussed on this website. Interviews with the directors, visual material, and documentation could also be carried. The filmmakers could also file accounts of their current projects with accompanying visuals. I have nearly finished an essay on Cinema in Tibet which could provide the historical and sociological background for the undertaking. Readers can expect this essay to be posted in a few weeks.
World Cinema of Freedom Struggles
Though at the moment there may not be enough Tibetan made films for a sustainable program of social and political education in our society we could use films of freedom struggles and revolutions from other countries to educate and inspire our people. Therefore one aspect of Cinema '59 should be the selection and screening of such films to Tibetan communities and groups everywhere. An extensive list of such films, videos or DVD's (with accompanying information) could be considered. In the case of Tibetans in isolated settlements in India and Nepal a touring "Agit" van or something like that could perhaps be attempted later by organizations as the TYC and others.
To make such films accessible to older Tibetans and Tibetans inside Tibet, such films as Gandhi could be dubbed in Tibetan and DVDs sent to Tibet. I think TIPA attempted to dub The Battle of Algiers into Tibetan.
* * *
See the Cinema '59 section for a list containing a variety of films, not all political or specifically about freedom struggles but most of which have somehow inspired or helped me hang in there. The artistic quality of the films vary considerably.