SFT Declares Olympics Victory in Beijing

By Students for a Free Tibet
Friday, Aug 1, 2008
No Comment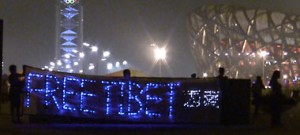 From the moment the International Olympic Committee (IOC) awarded China the Olympics in 2001, Students for a Free Tibet (SFT) has worked to ensure that Tibet would be a pressing global issue during the Beijing Games.
SFT members, working together with Tibetan exile communities and Tibet Support Groups, organized mass convergences and direct action protests in London, Paris, San Francisco and Nagano – including a daring banner hang action on the Golden Gate Bridge, a breathtaking image that landed on the front page of the New York Times.
In the final months leading up to the Games, the Chinese government, determined to carry out an 'incident-free' Games, launched the largest security operation in Olympic history. In spite of this, 70 SFT members successfully staged 8 high-profile non-violent protests in Beijing; 55 were detained and deported, 10 of whom were jailed for up to 6 days.
Overall, SFT activists carried out 25 major nonviolent direct actions in seven countries, held dozens of trainings on three continents, targeted Coca-Cola and other torch relay sponsors with grassroots campaigns, organized high-profile press conferences in five major cities and launched a groundbreaking online video channel: www.FT08.tv.
Through these inspiring nonviolent direct actions and the mobilization of thousands of supporters, SFT was able to keep Tibet in the global spotlight and show China's current and future leaders that the Tibet issue must be resolved before China can ever be truly accepted as a global leader.
For highlights of SFT's 2008 Beijing Olympic Games, visit www.freetibet2008.org for action footage, photos, press coverage, and more!